Bio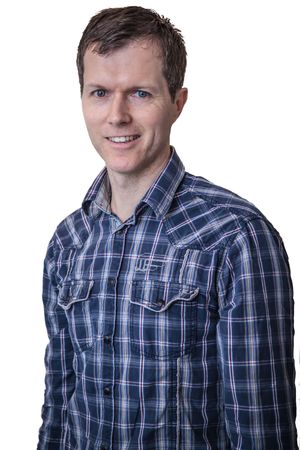 Guy started playing guitar at the early age of 9 and it wasn't before long he was playing at high school talent shows and community events. 
After high school Guy enrolled in The Applied Music program at Mohawk College in Hamilton Ontario.
Since graduating from Mohawk College in 1995 Guy has been busy teaching private guitar lessons at his home studio in St Thomas ON as well as playing with many different musical groups playing styles ranging from from Country, Rock, Blues and Jazz. 
Artists that Guy has performed with are Genevieve Fisher, Sarah Smith, Laura Rose, Doug Varty, Tara Oram, Karen Grainger, Jonathan Russell as well as touring throughout North American playing at festivals and theaters with a variety of Legend shows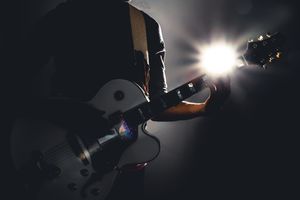 Rates and Cancellation Policy
Rates
1)  $25 – half hour lesson  
2)  $50 - 1 hr lesson  
*All students must pay at that beginning of the month($25 times the number weeks in the month).  
* Guitar lessons are 1 on 1 with instructor Guy Miskelly.  
*I accept cash or E-transfer.
What you will learn 
1) Notes on the guitar 
2) Power chords - ..."if you want to be a Rock Star you have to know power chords!" 
3) Basic chords and advanced chords – I will teach you how to move from one chord to the next along with your favourite songs. 
4) Strumming – Learning rhythm and proper strumming techniques is very important.  I will teach you how. 
5) How to memorize chords – You won't ever need the 1001 chord dictionary again !
6) Basic scales and advanced scales  -  I will show you scales and modes in a way that is easy to learn and memorize. 
7) Acoustic fingerstyle -  You will learn popular finger picking songs, classical pieces and jazz chord melodies. 
"Playing guitar should be fun and as a teacher I try to make it fun no matter what your musical journey is. " 
— Guy Miskelly
Cancellation Policy
- If you know you are going to be away for one of your lessons and let me know at the beginning of the month or sooner (must be at least a minimum 1 weeks notice) then this lesson can be missed with no charge.
- If a lesson is cancelled with less than 1 weeks notice then there will still be a charge but a makeup lesson will be scheduled for another time prior to the next month. 
- If a lesson is cancelled after 12pm the day of the lesson OR you don't show up to your lesson: You WILL NOT RECEIVE A MAKEUP LESSON and will still be charged for the lesson. 
- Weather Days: If bad weather is keeping you from attending your lesson or if public transportation is closed due to weather then a lesson may be cancelled with no charge and a credit for this lesson will be given for the next month. 
- If I cancel: there will be a makeup lesson at another time and day OR a credit for this lesson will be given for the next month. 
- Un-enrolling: You may cancel your enrollment at any time however, no refunds will be issued. Therefore, students should cancel their enrollment before the 1st lesson of the month, when payment is due.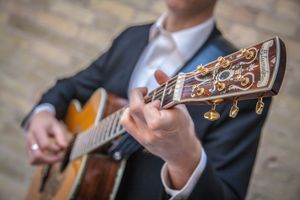 Processional Songs
0:00/8:15

0:00/2:57

0:00/1:50

0:00/1:43

0:00/2:37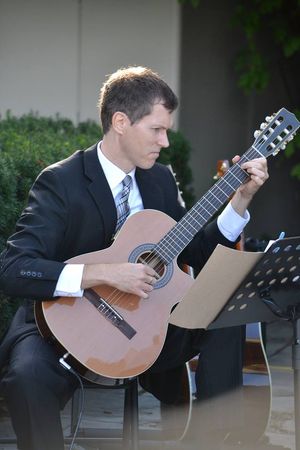 Register Signing Songs
0:00/4:23

0:00/3:52

0:00/1:26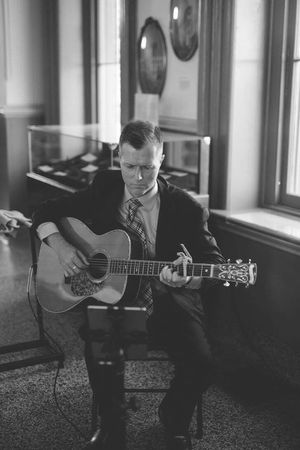 Recessional Songs
0:00/1:26

0:00/8:15

0:00/1:29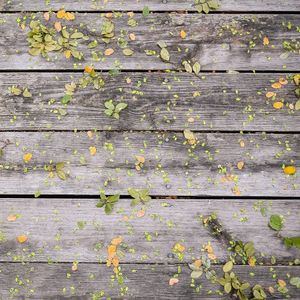 Reviews
"I just wanted to send you a quick note thanking you for the amazing music you played for our wedding last weekend. You set the perfect tone for our ceremony and cocktail hour and everyone loved the music! Thank you for learning a song that was not on your list and playing it so perfectly" 
Anna and Ryan Chedore 
"My kids are loving guitar lessons!  Guy is so patient and good with kids.  I highly recommend him. " 
Tasha Lowe
 "You did an amazing job :) Thank you so much for everything and for being a part of our special day.  Your music brought tears to my eyes the moment I hit the aisle. It was beautiful!  
I will definitely recommend your services to friends and family. " 
Thanks again, 
Elizabeth and Ryan David 
 
"Awesome instructor! Learned a lot of songs and techniques really fast!:)"     
Jordan Nicole
I'm a 36 year old mom of two young boys and finally decided to take guitar lessons after trying to teach myself multiple times. I'm just 9 weeks I've learned a new technique each week along with the basics of a new song. Guy will challenge you to push past your barriers but works patiently with you, keeping your interests in mind. Whether you want to be a campfire guitarist or a superstar performer, Guy will find the right pace for you....young, old and in-between!   
Karen Nixon Carroll
"You did such an amazing job!!! You are so talented and made our day very memorable! We were extremely lucky 🍀 to have you as our guitarist!"   
Terra and Aaron